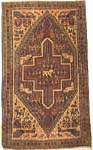 Diamond Herati (Lozenge Field with ""+"" Shaped Medallion""
This style is important because it sometimes employs the ""fish"" from the classic Herati or Fish Pattern. This style features an elongated medallion shaped like a pointy lozenge. These are usually very fine quality with good wool, depressed warp, high knot counts and beautiful designs.
This style breaks into two sub styles. One features a geometric lozenge with a jagged multi-lined edge, while the other sub style feature a lozenge with plant forms sticking out horizontally which look like half peeled bananas.