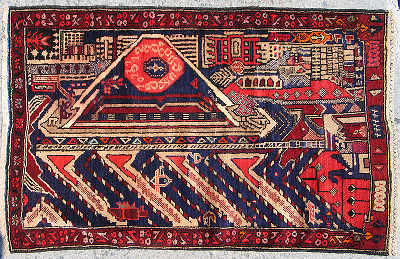 Clock Tower War Rug
This rug is very unusual. The wool is very good. The design is unique. It appears to be an adaptation of designs like This war rug #1465 or Plate 36 in Kevin Sudeith's first book about war rugs.. The large clock is unusual relative to similar designs. The white of the tower from which the clock hangs is understated. The foreground of this rug is abstracted, and there are war motifs like helicopters and rifles, scattered throughout the foreground.

The structure of this rug is reminiscent of rugs like war rug #26. It is possible that both of these rugs represent the work of the same weaver some 10 years apart.

The washing of this rug was not totally successful, for one can see some red discoloration in the lighter tans and whites, please see photos. Also note the light purple is an old fashioned analine dye, and significantly tip faded. Most synthetic dyes used in carpets today are no longer analine, but my understanding is that the particular purple in this rug is analyne. Condition notes aside, this is an interesting rug.

One of the subtle, and important, ways I judge rugs is by their weight. The best rugs have a density lacking in more poorly made rugs. Its not so much about knot count, because this rugs knotting is not particularly fine, but when I finished inventorying it and laid it back on the pile I noticed it had that density that speaks so well of rugs.
ID: 1488

$2249

35 x 55 inches
89 x 140 cm