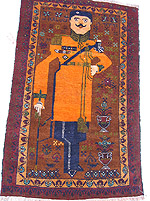 ID#:463,
Amman Ullah Kahn War Rug
This is a superb war rug from 1988. This is the image of King Amman Ullah Kahn. He is a highly celebrated army leader who was responsible for freeing Afghanistan. He became a favorite among artists to weave for many reasons. So much so that they were rare and difficult to come by, as many weavers kept them for their homes and seldom sold them for fear of punishment by the Taliban.
He was the King of Afghanistan from 1919-1929. It was during his reign that Afghanistan separated from the British Empire, formed relations with the Soviet Union, and successfully began and sustained good diplomatic relations with much of the world. However, it would be this very Soviet-Afghan relationship during the Bolshevik- era that soon became its countries demise. Any history buff would be pleased to acquire this rug, and even non-trivia speaking war rug collectors can sound like geniuses as they display the rug and discuss the irony that the former Soviet Union helped Afghanistan with military support to fight the British during his reign, only for the US to give military support to Afghanistan to later fight the Soviets, and, of course, the Taliban and Al Queada then used that military support to fight the Americans, British and Russians.
It should be said that had King Amman Ullah Kahn fully put into power his reformations, almost all of the things that plight Afghanistan today may never have existed. He stood for banks, taxes, freedom of dress, education and judiciary systems free from religion, but most importantly, he stood for civil rights for men, women, boys, and girls and against the forced veiling of women. Not surprisingly, he was overthrown by a Pashtun revolt.