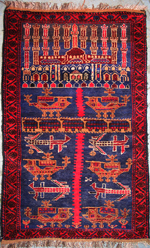 ID#:1439,
Three Panel Sajada with Minaret Mihrab
Excellent condition. New, full pile. The design of this rug is unusual. It is a variation on the 'Three Panel Sajada' style, but the meandering road which usually runs back and forth diagonally across rug in this case attractively runs straight up the middle. Also, in stead of a variety of plants and building scattered over the rug's field, this rug had two columns of well drawn planes and helicopters. Most notably though is the change in the top third of the rug. Usually this design has mountains at the top, but in this case the top has been clearly turned into a traditional Afghan mihrab of repeated minarets. It is both attractive, and clearly makes this a prayer rug. Missing from the design are the gates at the bottom.

The earliest example of this design is Rug 1090. Another early example is at the Textile Museum in Canada. Some later examples are here, here, here, here, and here (Plate 35 from Pictorial War Rug book.