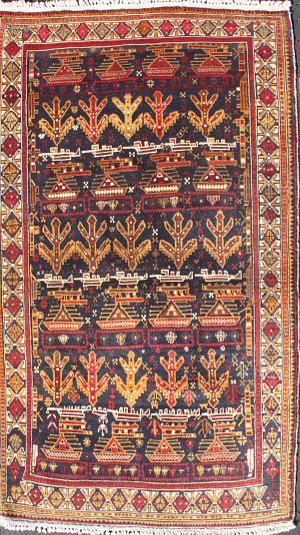 Small Floral Medallions with Vases of Flowers and Hand Grenades WRONG PHOTOS
The condition of this new war rug is perfect. It has beautiful color, from the deep blue field to the unusual turquoise in the top and bottom medallions. There is an attractive variety of color from olive green to bright red, yellow and pink. Please note there is some bleeding in the kilim ends, and the turquoise is a more furtive color. It changes to a blue grey over time.
The overall quality of this rug is very good. It has a thick feel from being well knotted with substantial wool.
The pattern is the traditional small floral medallions with the addition of vases of flowers, known to symbolize eternal life. The vases make a nice contrast to the hand grenades, which are well drawn.
This war rug has a traditional Herati border which complements the tree of life motifs which run vertically just inside the border.
76