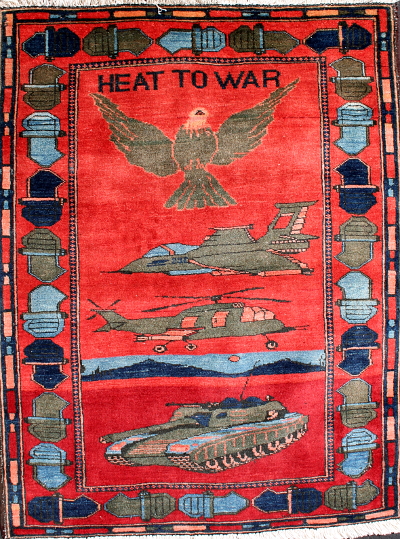 ID#:68,
Heat to War
This is the first ""American"" war rug I have seen, although I am sure more are to come. I have seen rugs in the past few years that feature the American eagle, but the weapons are new.
As with the early war rugs, the drawing are realistic and naturalistic. The more mature patterns, like the ""10 tank"" style, the patterns are moving towards abstraction. Details are deleted for a general form. ""Heat to War"" though depicts weapons in detail. The F16 and Blackhawk helicopter are easily recognizable. Rockets are mounted on the F16 and Blackhawk. Also very unusual is the tank being shown in a three quarter perspective. The images are almost stretched horizontally.
Border design? Please make a suggestion.
Style is Turkman. Typical Turkmen red, and flat selvedge. Short pile and fully depressed warp.
Interesting and important rug. "HEAT TO WAR" is written along the top.