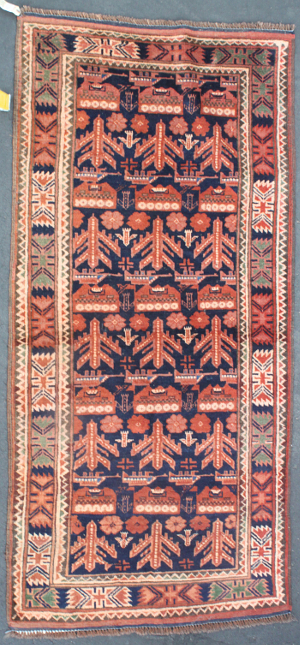 Progenitor Baghlani War Rug with Autumnal Color
Exhibited
Price on Request
This is the most unusual Baghlani rug. It has the design and proportions of a Baghlani rug, but the structure is unique. The structure is more similar to an Iranian Turkmen rug than most of the Baghlani rugs which have more typical Baluchi standards.
The colors are most limited but beautiful palette: rust, rust tan, tan, brown grey, blue and black. The rust, tan, and brown green are undyed wool. The background color is a very deep indigo. Also there are touches of a lighter blue (albeit still very dark) in some of the machine guns which make a very nice accent.
The rug has some areas of low pile on the bottom fifth, and particularly the lower left corner. Please, see photos.
ID: 985

$

36 x 72 inches
92 x 183 cm