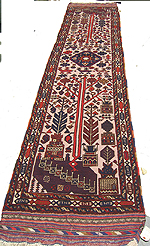 Gul i'Barjista Floral Runner
This red white and blue Gul i'Barjista rug features a repeated motif of a large floral Tree of Life sprouting from the bottom (and top) of the rug, growing towards the center. At the bottom of the motifs sit small intricate planter-like buildings from which plants sprout. Three helicopters labeled "ENTEN' fly above the tree below a large medallion and a cluster of flowers which sit in the center of the runner.
The border also features similar text, long blue and red diamond shapes frame the rug with the letters "ENTE" in striking text.
5000