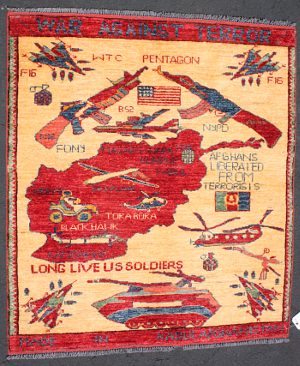 ID#:1107,
Afghan Kazak Afghan Map War Rug - War Against Terror
Afghan Kazaks were a commercial production made of Ghazni wool in Pakistan during the 1990's and early 2000's. The non war rugs featured well researched Caucasian designs knotted with symmetrical knots typical of Caucasian designs but atypical for Afghan of Pakistani rugs. We sold hundreds of non-war Afghan Kazaks, and only saw one war rug in the thousands from which we chose.
After the 2001 terrorist attacks and international intervention in Afghanistan, many weavers migrated back to Afghanistan from Pakistan bringing with them the designs and structures they wove in Pakistan. In 2002 a small group of these Afghan Kazak war rugs were woven in Kabul. An uncorroborated story said that General Tommy Franks was giving out this type of rug as official gifts. Warrug.com bought five pieces from a New York supplier of Afghan Kazaks who found one bale of these war rugs in a container of non-war rug Afghan Kazaks.
This rug has fine knotting, beautiful wool, and lustrous wash which is optimal because it is a historically important rugs since it documents a particular moment of time early in the "War Against Terror". The rug states in English, "Afghans Liberated from Terrorists", "Long Live US Soldiers", "FDNY", and "NYPD". The rug also features an AK47 crossed with an M16 showing the unity of the Afghans and the Americans against the terrorists.
The design featuring a map of Afghanistan with war imagery inside the map. These rugs are the first, in our experience, to feature any kind of drone. A predator drone is depicted inside northern Afghanistan with the word "spyplane" written underneath. The four wheeler is also a rare image in a war rug.