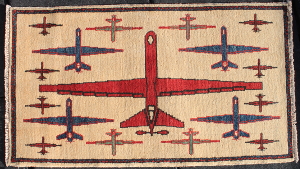 Red, White, and Blue Drone Rug
This is the exemplary drone rug, with a clear red, white and blue design. White field, red Reaper drone, with thin border.

The structure of this rug is noteworthy, for it is woven with the Turkish or symmetrical knot, whereas nearly all the rugs on warrug.com are asymmetrical open left.
1151