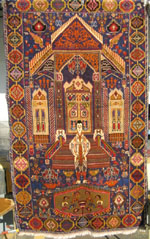 Man in Front of Pool
This war rug is in perfect condition. It has nice oxidation and is very well crafted with top quality wool.
The rug contains an extremely unusual border and scene that every collector and non-collector alike is sure to find dramatic and fascinating. There is a Turkmen-looking man standing in front of a temple and before him lays a serene reflecting pool with beautiful, rare waterfowl. Subtly between him and the pool are small helicopters providing an eerie and hard to forget reminder of war.
115