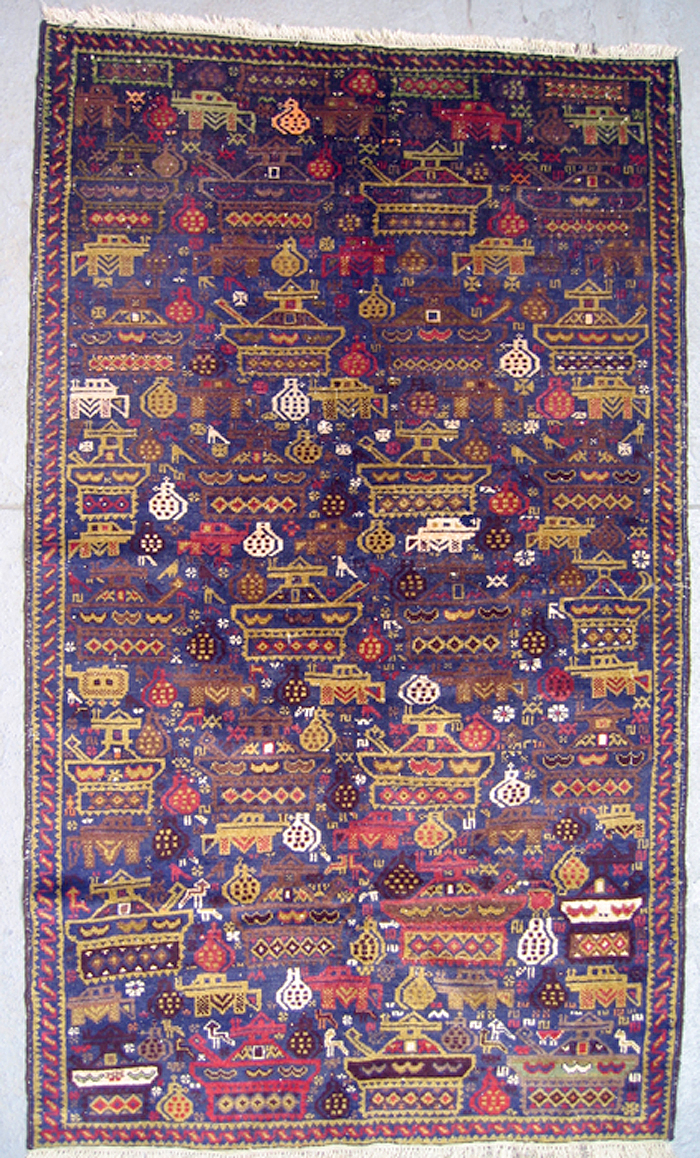 Rows of Small Weapons White Grenade War Rug
Exhibited at:

ID# 1398
Date: 1990s
Price:$ 2999
Size 42 x 72 inches
(107 X183 cm)
Knots/Inch:
8 h X 8
Origin: Afghanistan
Style: -Rows of Weapons War Rugs,
Other examples of this style
Tribe: Zakini
The latest and best photos are at the bottom.
This is a very textural rug. There is little negative space, rows of tanks, grenades, rifles, and small animals fill most of the space all the way up to the thin zig-zag border.
The bright white used in the grenades and rifles makes them pop from the otherwise dark colors of the rug. About 1/6 of the way up the rug, the background shifts from blue to a very dark navy, almost black.
Wool: Soft, smooth
Sheen: Shiny and Lusterous
Handle: Very floppy
Selvedge: Tightly braided brown wool with good coverage
Fringe: Reduced natural wool plain weave with white cotton thread
Pile: 5mm
Warp: Naturally colored 2S wool
Weft: White cotton
Warp Depression:Not depressed