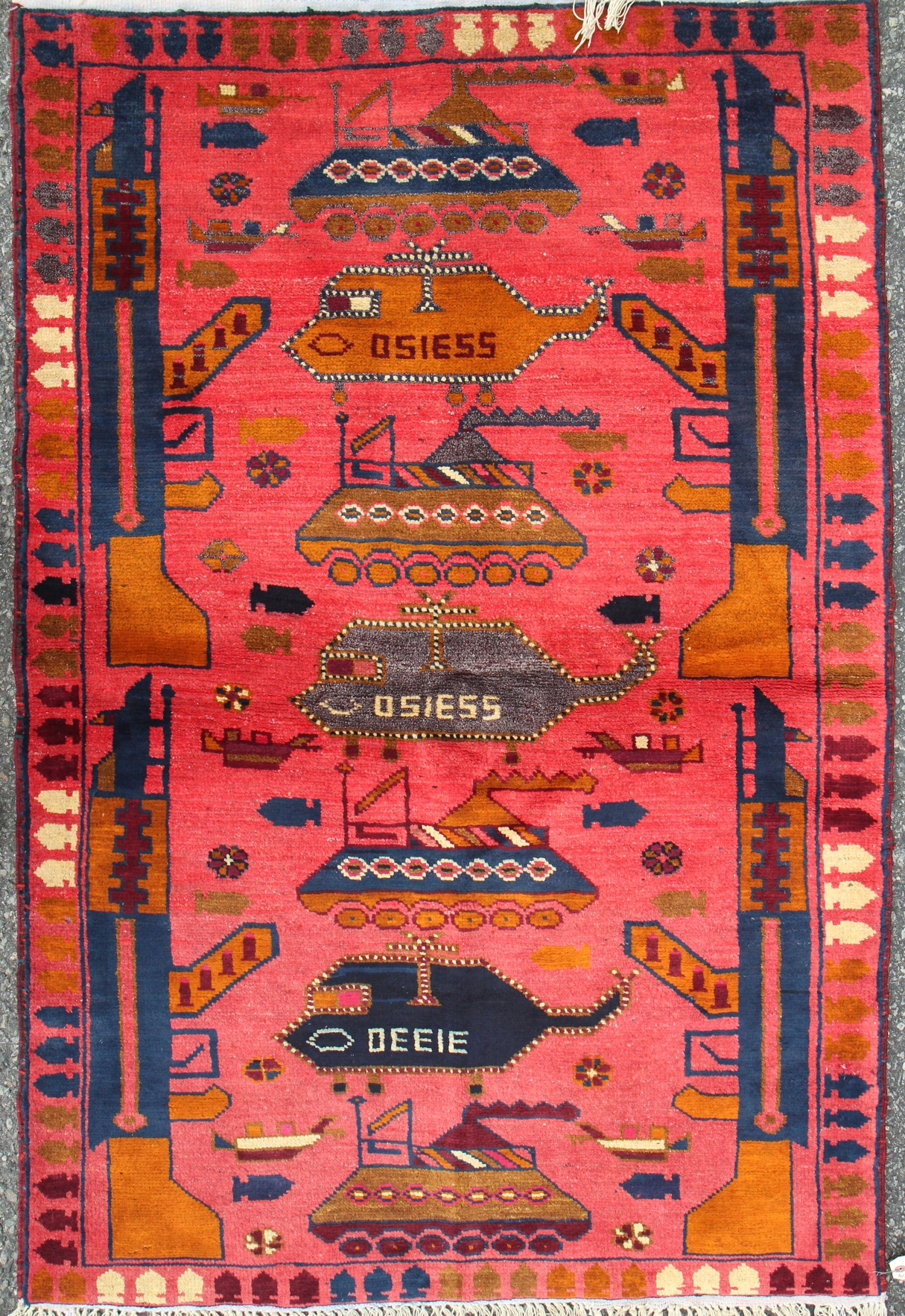 Red Rug with Helicopters Outlined with White Dots
Exhibited at:

ID# 1814
Date: Most likely woven in the 1990's but purchased through Pakistan in the late 2000's.
Price:$ 925
Size 41 x 60 inches
(104 X153 cm)
Knots/Inch:
6 h X 6
Origin: Pakistan
Style: -Red Rugs, a war rug classic. ,
Other examples of this style
Tribe: Turkman
This is a stunning rug in new condition. The strongest visual effect are the white checkered lines around the helicopters. The high contrast dots make the whole rug pop, and highlight the grey helicopter in the middle of the rug.

There are a couple very small places with spots of missing pile. See photos, but one must study the rug closely to notice.

Red Rugs were mostly woven in the refugee camps in Pakistan during the 1990's. This rug was imported to the US in the mid 2000's so the exact creation date is hard to say.

The bullets in the magazines are a nice touch. Also, the bullets that make the border look Afghan mujaheddin in their traditional clothes and hats. The color palette is harmonious and the composition is classic Red Rug, reminiscent of the guls in traditional Turkmen "Bokara" rugs.
Wool: The wool in this rug is mill spun from mid-grade quality so the luster is mild for the wool feels a little dry. Nonetheless it is strong and durable and will give good wear and life. In short it is the typical wool used in most Red Rugs
Sheen: Minimal sheen.
Handle: Sturdy firm construction gives this rug a strong handle.
Selvedge: Two cord, flat, red wool overcast. The red selvedge is a nice touch.
Fringe: Very short plain weave cotton kilim, overhand knots, and short fringe.
Pile: 5mm wool
Warp: White cotton
Weft: An unusual poly-chromatic cotton wefts: red, green, tan, brown, black.
Warp Depression:The warp depression in this rug is uneven, but generally it is about 45 degrees.