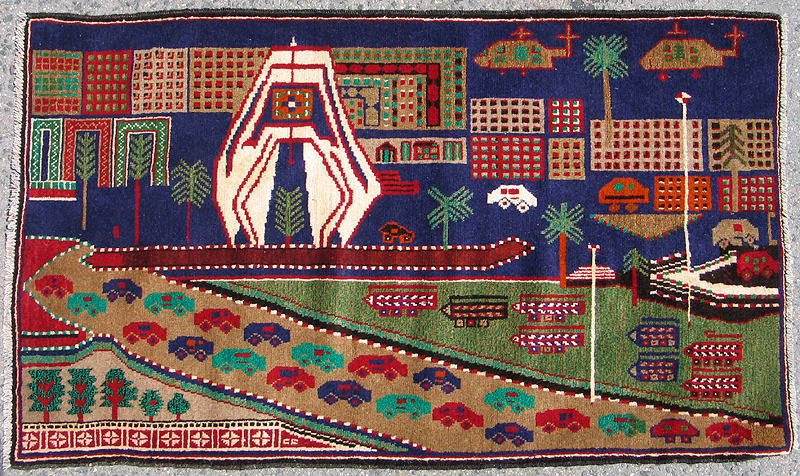 Clock Tower with Helicopters 1 War Rug
Exhibited at:

ID# 1484
Date: 2006
Price:$ 699
Size 33 x 56 inches
(84 X142 cm)
Knots/Inch:
10 h X 10
Origin: Afghanistan
Style: -Landscape Pictorial War Rugs,
Other examples of this style
Tribe: Baluchi
This is a new design in the past few years. Nigel Lendon, Max Allen and Kevin Sudeith have debated the monument shown. Sudeith maintains that it is a recently built monument built in a traffic circle in Herat, Afghanistan. Several rugs in our most recent shipment show this monument from several angles. This rug, and one similar example (link), are the best. The helicopters in the top right corner are unique to these two carpets. The helicopters ad excellent scale to whole rug. The emerald green in the cars in the foreground unusual material and doesn't feel like wool. The same material is marled into the first green and tan line on the top edge of the foreground roadway. The variety of marled colors give depth to pictorial space in this landscape rug. The geometric renderings of buildings is particular to these pictorial rugs from western Afghanistan.


Simply put, this rug (and its mate) are the best contemporary war rugs. This rug is great design with timely imagery.

For more information on pictorial war rugs please order Kevin Sudeith's book on the subject.
Wool: Good wool.
Sheen: Good
Handle: Classic Baluchi floppy.
Selvedge: Mixed color goat hair ranging from black to light grey. Thick gauge goat hair thread tightly bound
Fringe: No kilim ends, apparently reduced. The kinky warps suggest unwoven kilims. Persian closure of grey cotton.
Pile: 7mm
Warp: 2S light grey wool verging on white.
Weft:
Warp Depression:Floppy and strong pliability.