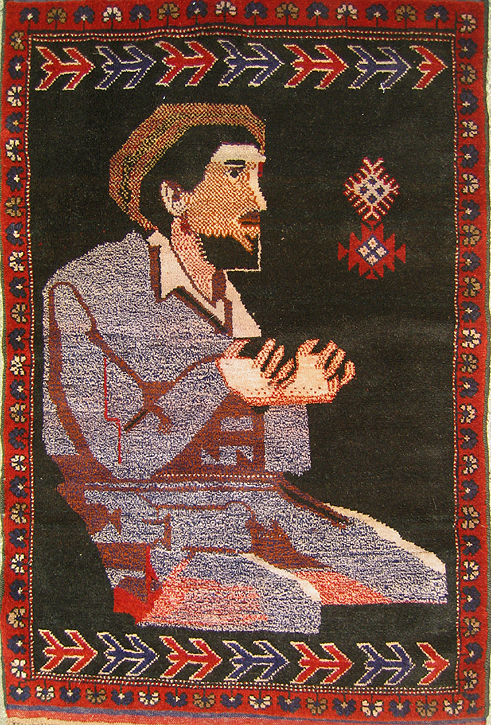 Ahmad Shah Ma'sud Praying Rug
Exhibited at:

ID# 2043
Date: 2005
Price:$ 1500
Size 35 x 56 inches
(89 X142 cm)
Knots/Inch:
10 h X 9
Origin: Afghanistan
Style: -Political Portraits,
Other examples of this style
Tribe: Baluchi
Northern Alliance leader Ahmad Shah Ma'sud is depicted praying in the center of this rug on a dark field. The blue in his clothing is marled with white, while the orangey red in his face is made with alternating checkered knots.
Small medallions float to the right of his head. A pattern of red and blue planes creates a textural line at the top and bottom of the composition.
Wool: Thick, clumpy, dry
Sheen: Matte
Handle: Floppy
Selvedge: Thick brown tightly braided wool
Fringe: Blue, red, and tan bands of plain weave wool with overhand knots
Pile: 7mm
Warp: Brown naturally colored wool
Weft: Black cotton thread
Warp Depression:No depression