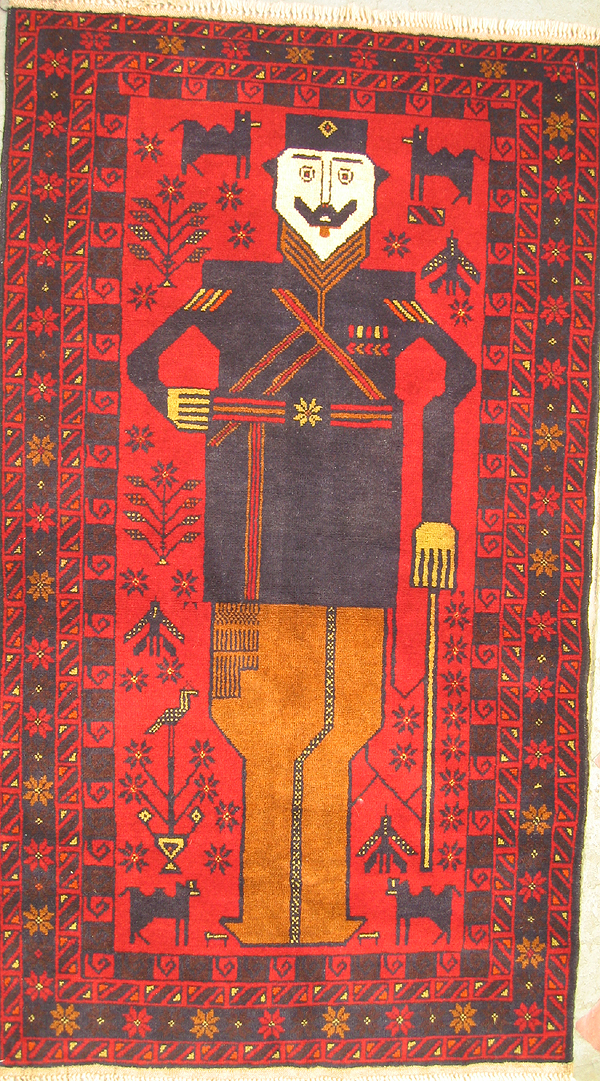 Red Amman Ullah Khan War Rug
Price on request
Exhibited at:

ID# 1072
Date: 1980s
Price:$
Size 30 x 59 inches
(76 X149 cm)
Knots/Inch:
8 h X 9
Origin: Afghanistan
Style: -Amman Ullah Khan War Rugs,
Other examples of this style
Tribe: Mushwani
This red Amman Ullah Khan rug shows the figure wearing a navy blue and orange military uniform and holding a yellow cane. Filling in the negative space around the figure are jets, flowers, plants, camels, and some sort of small animal.
There are four similarly sized borders each with their own pattern of geometric shapes.
Wool: High quality, soft.
Sheen: Shiny
Handle: Maximum flop
Selvedge: Black braided goat hair, okay coverage
Fringe: .75 plain weave naturally colored wool
Pile: 6 mm
Warp: Naturally colored wool knotted at bottom
Weft: Double grey cotton thread
Warp Depression:90 degrees