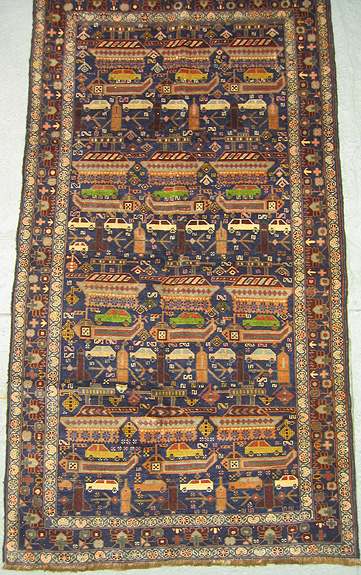 Car Style War Rug with Civil War Era Rockets
Exhibited at:

ID# 942
Date: Mid 1990s
Price:$ 2100
Size 42 x 76 inches
(107 X193 cm)
Knots/Inch:
10 h X 10
Origin: Afghanistan
Style: -Car Style War Rugs
Tribe: Baluchi
Low pile in area, but not worn to knots, lost kilim ends, sarnach. Color is excellent, Super Duper rug = Rocks the hard jams. Good selvedge.
Wool: The best, soft, lush, well oxidized
Sheen: Excellent
Handle: Strong soft floppy
Selvedge: Very finely done double cord braided goat hair. Excellently done
Fringe: Kilim ends appear to have been lost. Persian closure at end of knots.
Pile: Short pile, 3mm
Warp: Dark hand spun, coarse and fair quality wool
Weft: Grey cotton
Warp Depression:Corduroy texture, 45 to 60 degrees