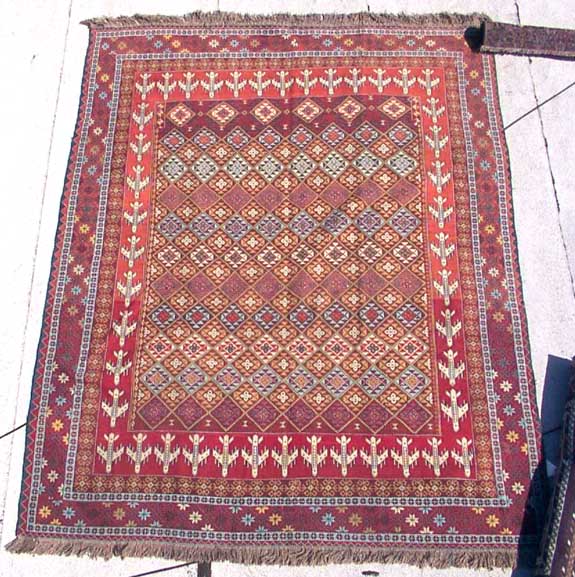 Sumac with Plane Border War Rug
Exhibited at:

This one of two sumacs I found recently. Very unusual. I have never seen a rug like this before. The traditional field diamond motifs is lovely. The plane border gives movement and direction. Colors are great.
This rug has a couple of charming idiosyncrasies. First is the pattern modulation on one end. The second is a change in field color where the weaver must have run out of orange-red and shifted to a vermillion. The vermillion is used though out the rug as an accent.
This rug is estimated to be from the late eighties. There is a subtle fade to the colors on the top (see picture). Very minor wear.
Good quality and condition for vintage rug.
Wool: Strong rug wool
Sheen: Moderate, this criteria is not so applicable to flat weaves.
Handle: Soft and flexible.
Selvedge: 4 cord sumac, grey.
Fringe: Overhand knots, 3 inch fringe.
Pile: Not applicable
Warp: Multi colored wool.
Weft: Grey wool.
Warp Depression:Not Applicable