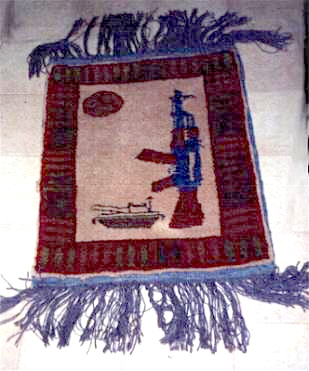 Vegetable Dye Small Afghanistan War Rug
Exhibited at:

ID# 54
Date: Contemporary
-
Size 21 x 42 inches
(53 X107 cm)
Knots/Inch:
7 h X 9
Origin: Pakistan
Style:Vegetable Dye War Rugs
Tribe: Turkman
This is an example of a type of vegetable dye rug which was common in 1999 and 2000. This rug had unusually good drawing and composition. These seem to be antique washed as seen in the very dark wool fringe. Dense wool. Nice quality. A lot of these rugs had the circular motif in the upper left.
Wool: Good quality rug wool
Sheen: Fair, not much.
Handle: Strong, stiff.
Selvedge: 3 cord flat overcast
Fringe: Grey kilim, short.
Pile: Wool
Warp: Cotton
Weft: Long wool
Warp Depression:Full Depression