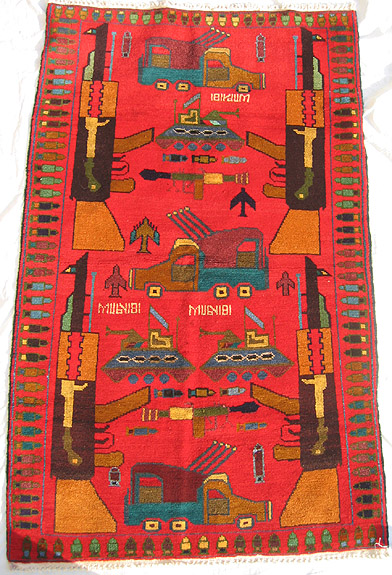 Beautiful Bright Color Red War Rug
Exhibited at:

ID# 519
Date: 2003
Price:$ 275
Size 37 x 60 inches
(94 X152 cm)
Knots/Inch:
7 h X 11
Origin: Pakistan
Style: -Red Rugs, a war rug classic.
Tribe: Turkman
New, excellent condition. This rug has an excellent variety and choice of colors.
Wool: Very good
Sheen: Good
Handle: Floppy
Selvedge: Two cords black
Fringe: Half inch kilim, overhand knots, minimal fringe
Pile: 7mm
Warp: White cotton
Weft: Triple wefted black.
Warp Depression:Forty five to sixty degree warp depression