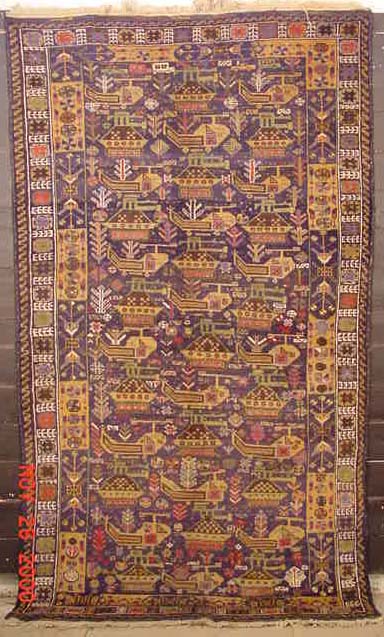 Large Car Style Afghan War Rug
Exhibited at:

ID# 44
Date: Late 80s earl 90s
-:-
Size 51 x 90 inches
(130 X229 cm)
Knots/Inch:
9 h X 10
Origin: Afghanistan
Style: -Car Style War Rugs,
Other examples of this style
Tribe: Baluchi
Perfect. Rugs of this style typically are woven from very soft wool, fine in texture. Nice palette of colors. More pedestrian imagery. It is not all intensely warlike.
Wool: Excellent Herati Wool
Sheen: Beautiful shimmer. Soft sheen.
Handle: Pliable and soft, but strong too.
Selvedge: Goat hair.
Fringe: Kilim with weft brocade
Pile: wool
Warp: Grey cotton
Weft: Natural wool
Warp Depression:15 Degree Depressed