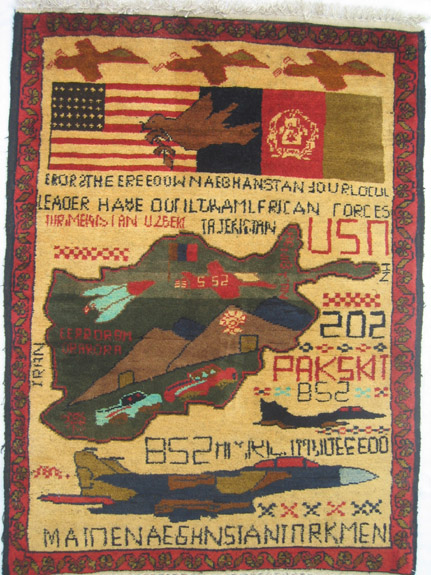 Three Fighter Jet War Rug with Tora Bora and Flag Banner PSYOP Motifs
Exhibited at:

ID# 423
Date: 2002
-
Size 22 x 31 inches
(56 X79 cm)
Knots/Inch:
13 h X 12
Origin: Afghanistan
Style:Tora Bora Sherberghan
Tribe: Turkman
This new war rug is in excellent condition with only some minor bleeding that is common in this type of tribal folk art. The text is incredibly simple in language and yet astonishingly profound in meaning. The phrase beneath the nation-building banner of peace reads to the terrorists Terrors, the freedom of Afghanistan our local leader has come with American Forces. Not commonly seen in Tora Bora war rugs is the ethnicity of the artist written along side of the text reading Made in Afghanistan Turkmen. The labeling of all the countries that share a border with Afghanistan is nice, as well as the Tora Bora mountain range. Of note is the particular attention this artist paid to the beautiful emblem in the flag of Afghanistan.
Wool: This wool is good, soft
Sheen: Good
Handle: Firm
Selvedge: Three cord black wool
Fringe: Minimal fringe, Persian closure, short fringe
Pile: 6mm
Warp: white cotton
Weft: Double grey
Warp Depression:Full warp depression