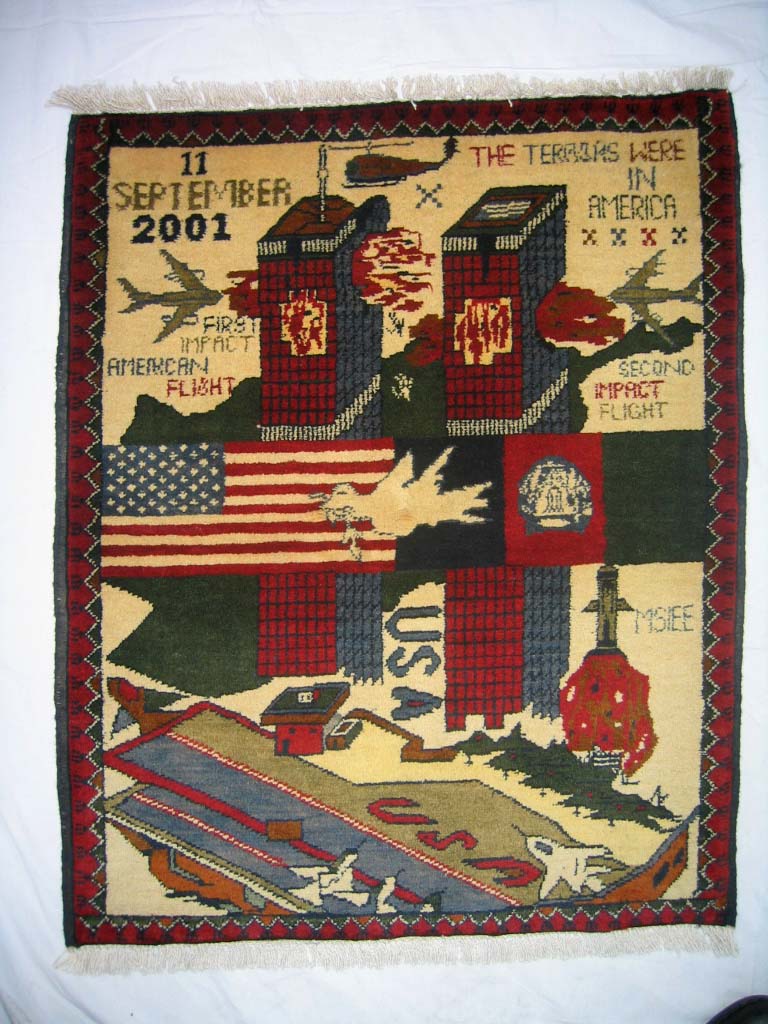 World Trade Center War Rug with PSYOPS Flag Banner
Exhibited at:

ID# 383
Date: 2002
-:-
Size 24 x 30 inches
(61 X77 cm)
Knots/Inch:
10 h X 12
Origin: Afghanistan
Style: -World Trade Center Flag Banner War Rugs,
Other examples of this style
Tribe: Turkman
The condition of this new war rug is perfect. The entire staff at warrug.com have agreed that this is one of the best 9/11 war rugs that we have seen. The colors are absolutely outstanding with a variety not commonly seen ever before. An example of this is in the flames. The use of red, blue, yellow, black, and gold shows unparalleled attention to detail by the weaver. The drawing in this war rug is on a completely different level. The flags with the dove is extremely well drawn, with the American flag and the emblem in the center of the Afghani flag crystal clear. This is an impressive piece and should be passed on through generations.
There is some minor bleeding of dark into light colors which is common in these types of new war rugs.
Wool: Very good
Sheen: Very good
Handle: Extremely firm and springy
Selvedge: Four cord flat weft wrap selvedge
Fringe: Overhand knots, two strand Persian closure
Pile: 6mm
Warp: White cotton
Weft: Black wool
Warp Depression:Full warp depression