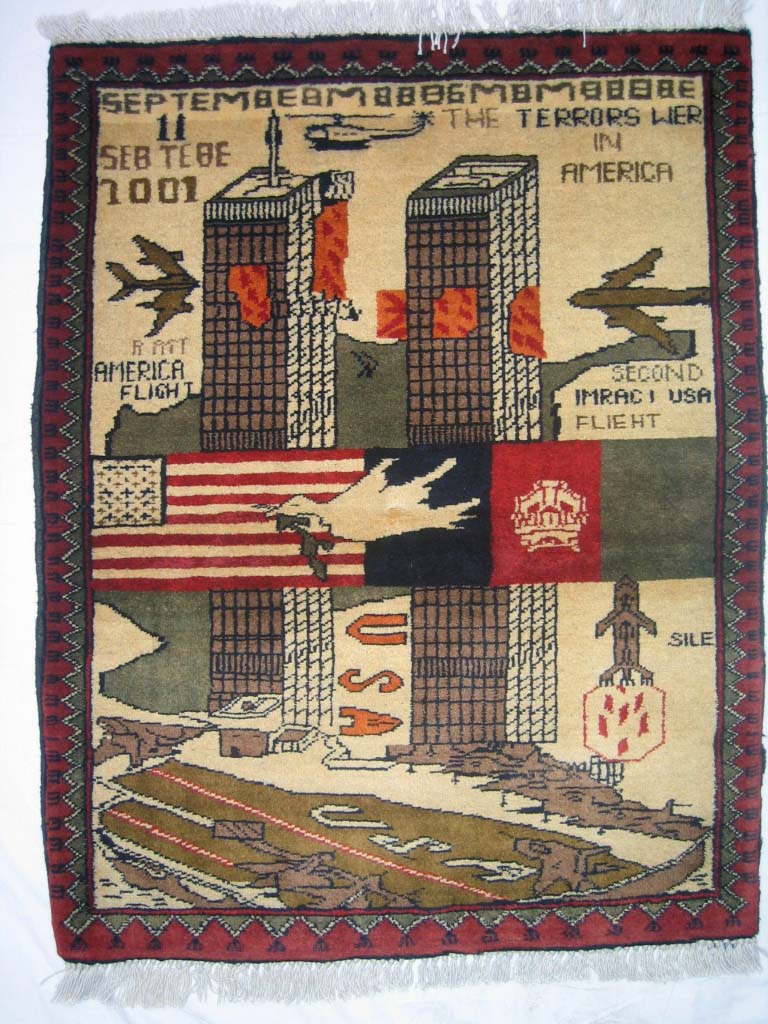 World Trade Center with Orange USA Between Towers
Exhibited at:

ID# 379
Date: 2003
-:-
Size 24 x 31 inches
(61 X79 cm)
Knots/Inch:
11 h X 14
Origin: Afghanistan
Style: -World Trade Center Flag Banner War Rugs,
Other examples of this style
Tribe: Turkman
The condition of this new war rug is perfect. The use of militaristic colors gives this rug a sharp contemporary twist on traditional war rug weaving. We think of war rugs as being the typical Baluch red or blue, or of having subtle imagery if not of those types. There is no confusion as to the theme or resulting consequence of September 11th. Although we see the burning towers and people falling, the artist also clearly shows the American aircraft carrier and missile launching with a map of Afghanistan in the background. The nation building image of the American flag united with the Afghani flag by a dove carrying an olive sprig gives a nice focal point to the surrounding atrocities.
Wool: Extremely dense, very nice, very solid
Sheen: Very good
Handle: Super extremely firm
Selvedge: Two cord black weft wrap overcast
Fringe: Overhand knots, short fringe, slight bleeding of black into fringe
Pile: 7mm
Warp: white cotton
Weft: Black wool
Warp Depression:Full warp depression