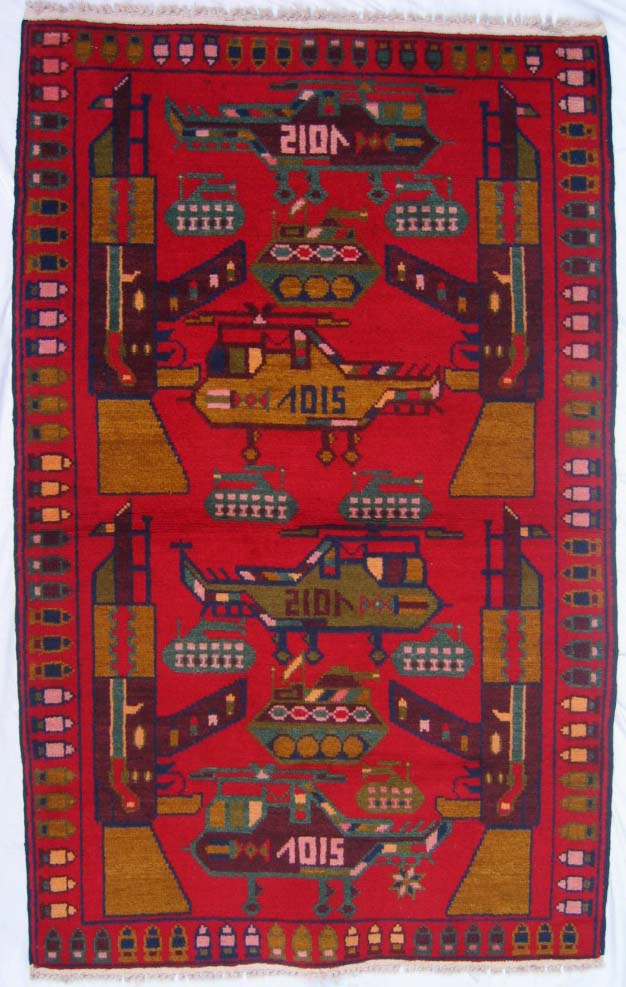 Red War Rug with Small Emerald Green Tanks
Exhibited at:

ID# 370
Date: 2002
-
Size 37 x 60 inches
(94 X152 cm)
Knots/Inch:
7 h X 6
Origin: Pakistan
Style:Red Rugs, a war rug classic.
Tribe: Turkman
The condition of this new war rug is excellent. The colors used in this war rug are absolutely wonderful. Great attention by the weaver has been given to alternating colors, seen throughout this rug in the bullets and along the helicopter. This rug has very nice, simple and stylized emerald green tanks. The drawing of these is very attractive and they are a classic motif on these red war rugs. Not commonly seen, but highly sought after, are the bullets seen in the magazines of the rifles and the internal mechanisms used to fire the gun. This is interesting partly because this war rug came out of one of the Afghan refugee camps located in Peshawar. How an Afghani weaver could know the internal workings of a rifle is not much of a puzzle given the refugees locale. In this north-western Pakistani region, there are many changes occurring right now. Many of the Pashtuns there, (the weavers of our rugs are Turkmen) are creating a Taliban-sequel existence. Interestingly, the changes we are seeing in the war rugs using more internal diagrams of the ammunitions could be directly related to the camps proximity to the shops in Pakistan that make and alter rifles.
Wool: Wool is good, above average.
Sheen: Sheen is good
Handle: Firm but slightly floppy.
Selvedge: Two cord very dark blue wool
Fringe: Very short cotton kilim
Pile: Short cotton kilim, overhand knots, minimal fringe.
Warp: 8mm
Weft: Black wool
Warp Depression:This war rug has 45 degree warp depression