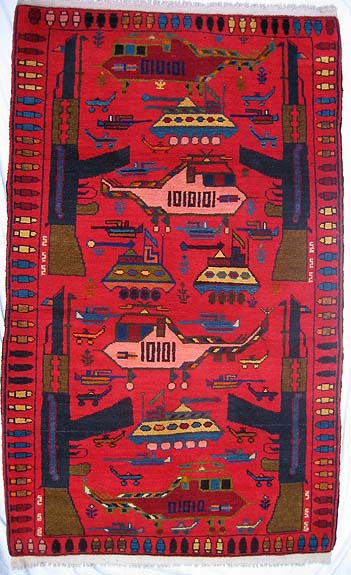 Red Rug with Little Plants
Exhibited at:

ID# 365
Date: 2003
-
Size 39 x 64 inches
(99 X162 cm)
Knots/Inch:
7 h X 10
Origin: Pakistan
Style:Red Rugs, a war rug classic.
Tribe: Turkman
The condition of this new war rug is perfect. This war rug has beautiful uses of color with wonderful drawings. The composition of the designs is excellent. The field is densely laid out with images. Often it is boring for a weaver to go long stretches of weaving one solid color, so they will often fill in the area with little Xes. The weaver of this rug, however, fills in the field with a variety of interesting images, including smaller aircraft and munitions with the occasional small plant as an excellent accent.
Wool: The wool in this war rug is dense and there is some variation in consistency in wool density in different colors.
Sheen: Very good
Handle: Firm
Selvedge: Three cord black wool
Fringe: Two inch kilim, overhand knots and minimal fringe.
Pile: 5mm
Warp: White cotton
Weft: Black wool
Warp Depression:Minimal warp depression