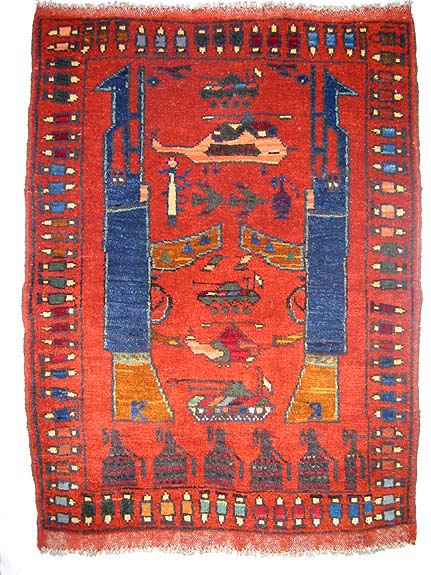 Rust Colored Red War Rug
Exhibited at:

ID# 362
Date: 2002
-
Size 27 x 36 inches
(69 X91 cm)
Knots/Inch:
7 h X 9
Origin: Pakistan
Style:Red Rugs, a war rug classic.
Tribe: Turkman
The condition of this new war rug is good. This is an Afghan war rug that was washed using a special technique in Pakistan before it was shipped to us. This wash gives this war rug very nice colors in beautiful muted tones. The drawings are excellent. The images depicted in this rug in particular are great with the small white RPG below the top helicopter a nice touch. The composition is wonderful and this war rug will only become more beautiful over time.
Wool: Good, well above average.
Sheen: Very good
Handle: Floppy
Selvedge: Two cord brown wool.
Fringe: One inch rust kilim, overhand knots, minimal kilim
Pile: 5mm
Warp: Grey and white wool
Weft: Gray cotton.
Warp Depression:Minimal warp depression