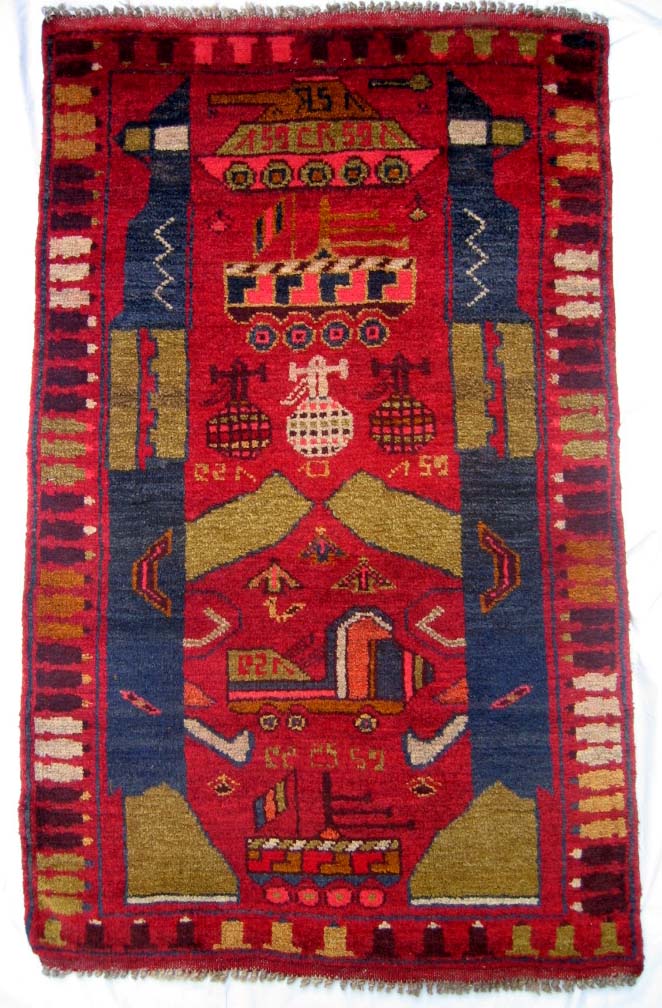 Small Red War Rug with Anti-aircraft Truck Between Triggers of AK-47s
Exhibited at:

ID# 360
Date: 2003
-
Size 24 x 37 inches
(61 X94 cm)
Knots/Inch:
8 h X 10
Origin: Pakistan
Style:Red Rugs, a war rug classic.
Tribe: Turkman
The condition of this new war rug is excellent. The color is vibrant and the sheen on this rug is extraordinary. There are images of AK-74s along the sides and wonderful drawings of a battery of anti-aircraft weapons. The rocket launchers are depicted in the likes of childhood toys. The use of colors in the images throughout this war rug is absolutely wonderful with innocence juxtaposed with the harsh reality of military armaments. The bullets along the border continue this color theme.
Wool: Very good, well above average
Sheen: Very good, especially in the red
Handle: Floppy
Selvedge: Two cord shiny red woo.
Fringe: Short kilim, overhand knots, minimal fringe.
Pile: 8mm
Warp: Brown wool
Weft: Brown wool
Warp Depression:Minimal warp depression