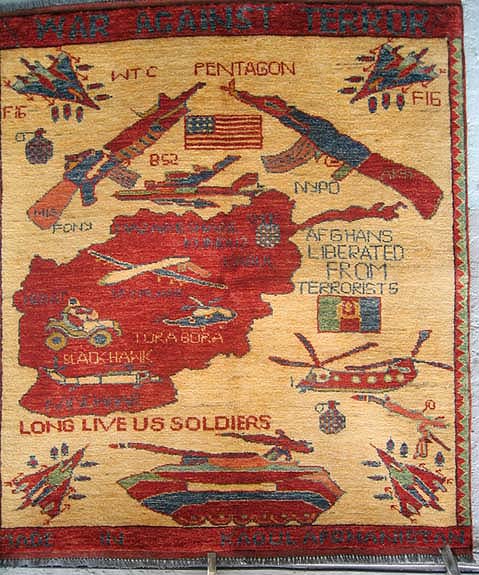 Kabul Kazak - War Against Terrorism
Exhibited at:

The condition of this new war rug is perfect. It is made with the finest wool in all of Afghanistan, called Ghazni wool from the region from which it hails. The wool is entirely spun by hand. This war rug has excellent color and much thicker pile than most Kazak rugs which tend to have very short pile.
We at warrug.com are proud to introduce to our customers the very first of this type of war rug anyone here has ever seen. These rugs just arrived from weavers in Kabul, Afghanistan. The staff at warrug.com have begged our boss to let us keep one here in the office, to no avail. In fact, those in customer service have all agreed unanimously that this new type of war rug is our absolute favorite war rug EVER!
First of all, the wool and colors are simply luscious. This rug has the most unusual war images ever seen. Just look at the inclusion of an ATV and the amazing predator drone flying over the mountains of Afghanistan. This weaver was unbelievably talented with her drawings of the Blackhawk helicopter and accurate depiction of our tanks. The text on top reads - War against Terror - and the text along the bottom reads -Made in Kabul Afghanistan -. Other text located throughout this incredible Afghan war rug reads - FDNY - WTC - PENTAGON - NYPD - , just to name a few.
This war rug really brings a true contemporary twist into the world of traditional Afghan Kazak rugs, which were so popular in American homes during the end of the last century.
Wool: Super excellent. Couldn't be better.
Sheen: Super Excellent
Handle: Firm
Selvedge: The selvedge is two cord flat wool overcast.
Fringe: One inch red wool kilim, Persian closure, grey wool fringe.
Pile: The pile on these rugs is exceptionally thick and 5mm deep.
Warp: Grey wool
Weft: Single weft cotton
Warp Depression:Mostly full depression