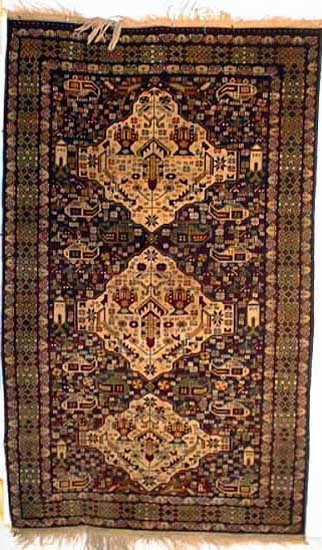 3 Medallion w/ Taliban Rockets Afghan War Rug
Exhibited at:

ID# 35
Date: 5 years
-:-
Size 42 x 78 inches
(107 X198 cm)
Knots/Inch:
8 h X 9
Origin: Afghanistan
Style: -Geometric Medallion War Rugs,
Other examples of this style
Tribe: Baluchi
Another beautiful traditional rug with slight war accents. The rockets are ""Taliban Rockets"" which denote a later rug from the civil war. Densely knotted. Very fine quality.
Wool: Excellent quality wool.
Sheen: Very nice.
Handle: Super strong. Pliable.
Selvedge: Braided goat hair.
Fringe: Kilim
Pile: Wool.
Warp: Grey cotton
Weft: Natural wool.
Warp Depression:30 Degree Depressed