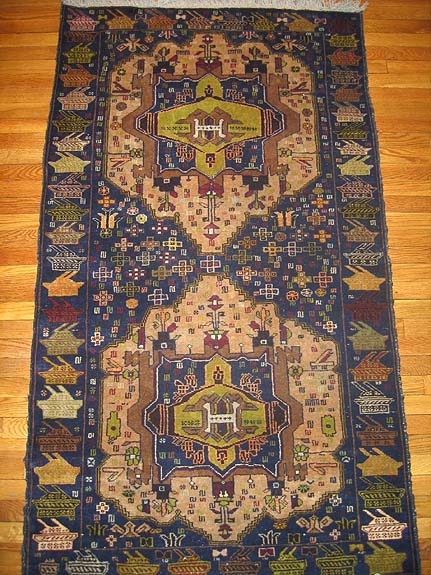 Camel Medallion Herati Afghan War Rug with Tank Border
Exhibited at:

This newish rug is in very good condition. This is an excellent rug. The wool is soft, fine and dense. It is well knotted. It has a most pleasurable sensation underfoot. The sheen is silky and lustrous. It represents the best kind of Baluchi rug from western Afghanistan.
The pattern of this rug is unique and does not fit into any style. The tank border is reminiscent of ""Two Ewer"" rugs or ""Golden Border"" rugs, but the we have never seen this kind of medallion in any Afghan Baluchi rug, war or otherwise.
The main camel medallion color is undyed wool, probably camel wool. The smaller square medallions are very unique, and the brown outer portion is again undyed wool. The colors, from the camel to the green centers are beautifully keyed together.
The different sized motifs throughout the rug make a strong composition. The large motifs, the camel medallions, contrast well with the small motifs in the field and the medium sized tank motifs on the border.
Simply, a great rug.
Wool: Super excellent
Sheen: Beautiful
Handle: Floppy on the firm side.
Selvedge: Irregular braided goat hair overcast.
Fringe: Short wool kilim, overhand knots, short fringe.
Pile: 5mm wool
Warp: Natural wool
Weft: Grey cotton
Warp Depression:Full warp depression.