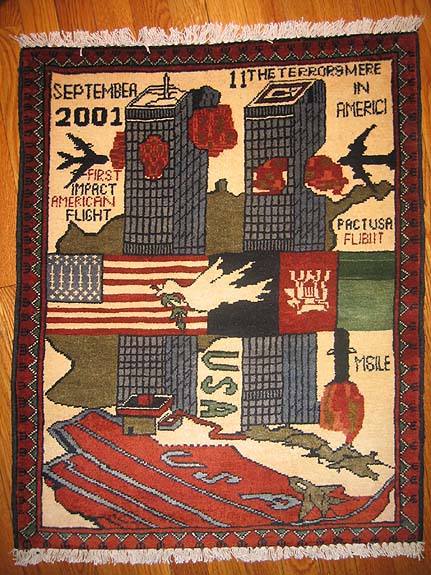 World Trade Center September 11 Afghan War Rug - Grey Towers
Exhibited at:

ID# 312
Date: 2002
-:-
Size 24 x 30 inches
(61 X77 cm)
Knots/Inch:
11 h X 11
Origin: Afghanistan
Style: -World Trade Center Flag Banner War Rugs,
Other examples of this style
Tribe: Turkman
The condition of this new war rug is excellent. This rug is extremely well knotted and truly stands out as such. The colors are exceptional in this rug and are used very nicely in the flags as well as the dove. The helicopter is nice in this war rug as well. The tower on the left is haunting while interesting at the same time because on the very top rear it is drawn with the steel melting and peeling back.
Wool: Very good.
Sheen: Good
Handle: Firm
Selvedge: Three cord flat black and blue warp wrap.
Fringe: Persian closure
Pile: 6mm
Warp: White cotton
Weft: One black, one brown wool
Warp Depression:Full warp depression