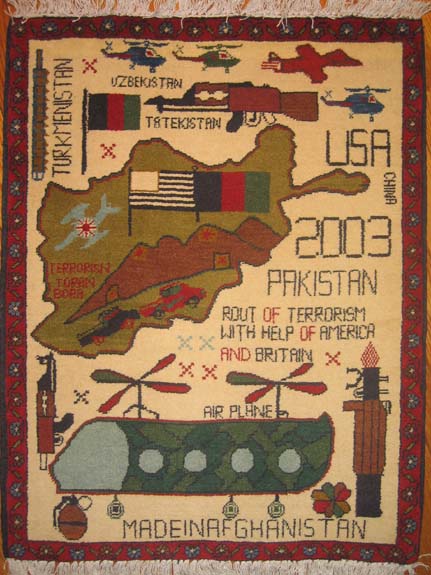 Sea Knight with Dragon's Teeth Afghan War Rug with US and Afghan Flags over Tora Bora
Exhibited at:

ID# 308
Date: 2003
-:-
Size 24 x 31 inches
(61 X79 cm)
Knots/Inch:
14 h X 12
Origin: Afghanistan
Style: -Sea Knight Tora Bora War Rugs,
Other examples of this style
Tribe: Turkman
This new Afghan war rug is in perfect condition. This rug is one of a small number of rugs in the ""Chinook Helicopter"" sub-group of the ""Rout of Terrorism"" Afghan war rugs. The Chinook style features many of the same image as the rest of the ""Rout of terrorism"" rugs, like the Afghan map with a scene of the Tora Bora battle inside, variety of flags and weapons, names of the surrounding countries, as well as English or Farsi text. This particular sub-style shows a simply but elegantly drawn US Chinook helicopter.
This rug has a camouflaged Chinook with a grey front. The drawing of the helicopter has a playful anthropomorphic quality.
The union of the Afghans and Americans is depicted by the two countries flags joined in the sky above the Tora Bora mountains.
This rug features a armament not often seen in war rugs: Dragon's teeth anti tank mine. Several years ago an Air Force family was purchasing a rug from us and gave us some assistance deciphering this rug. The retired airman said the jagged things running horizontally in several places across this rug are ""Dragon's Teeth"" anti tank mines. In this rug, #308, the object running vertically along the border in the top left appears to be the same weapon.
This is one of the first rugs we have seen dated 2003.
Wool: Very good.
Sheen: Good.
Handle: Firm and resilient
Selvedge: Three cord warp wrap.
Fringe: Persian closure, one inch fringe.
Pile: 7mm wool
Warp: White cotton
Weft: Black cotton
Warp Depression:Full warp depression, double knotted