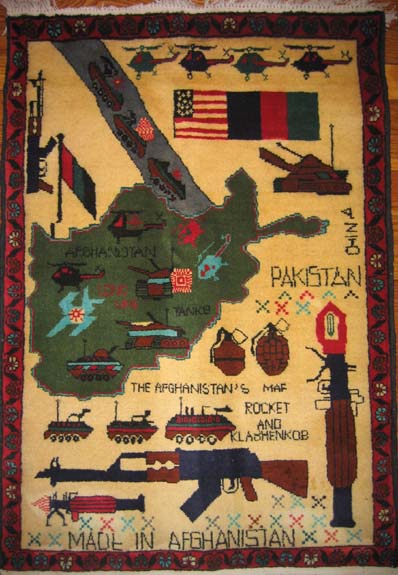 Transitional Soviet Afghan War / War on Terrorism Rug
Exhibited at:

The condition of this new Afghan war rug is perfect. It is densely knotted with good quality wool.
This is the original pattern of the yellow war rug. It features the Soviet / Afghan war story. It depicts the Soviet forces retreating from whence they came via Uzbekistan. This kind of rug features Soviet APCs and Helicopters under attack and on fire. This particular rug is a transitional piece, showing the Soviet withdrawal, but also the American flag joined with an Afghan flag. The US / Afghan flags are seen in the later ""Rout of terrorism"" rug, so this rug is a very recent example of the Soviet story map rug. Before the fall of the Taliban these rugs were made in western Pakistan, but they are now woven in northern Afghanistan, the traditional home of these Turkman weavers. The main production centers are Mazar I'Sharif and Sherberghan.
Wool: Very Good.
Sheen: Good
Handle: Firm and slightly stiff
Selvedge: Two cord dark wool.
Fringe: Short cotton kilim, Persian closure, two inch fringe.
Pile: 6mm wool
Warp: White cotton
Weft: Double wefted, one black and one red shoot.
Warp Depression:Full warp depression