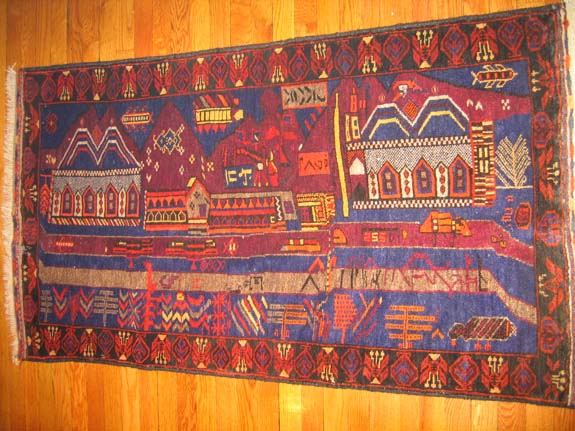 Small Pictorial #6
Exhibited at:

ID# 227
Date: 1991-1993
-:-
Size 32 x 56 inches
(81 X142 cm)
Knots/Inch:
7 h X 10
Origin: Afghanistan
Style: -Herat South View of Mosque,
Other examples of this style
Tribe: Taimani
The condition of this older pictorial rug is very good with one caveat: there is a two inch by 1.5 inch section on the top near the fringe with moth damage. The wool is excellent and the design a classic. The image is an armored column rolling through the streets of a town, probably the old city of Herat. There is foliage and a chicken in the foreground, then a road with abstracted armor, then a city scene with a mosque. Behind the city are mountains with anti aircraft positions, and above the mountains is the sky with airplanes.
Wool: Very nice, soft and lustrous.
Sheen: Very good. Satin.
Handle: Floppy
Selvedge: Braided goat hair overcast
Fringe: 1.5 inch kilim with braided sumac band and tufts of decorative fringe. The bottom has a braided closure of the kilim while the top has no closure, just loose fringe
Pile: 5mm fine wool
Warp: Natural wool
Weft: Grey cotton
Warp Depression:not depressed