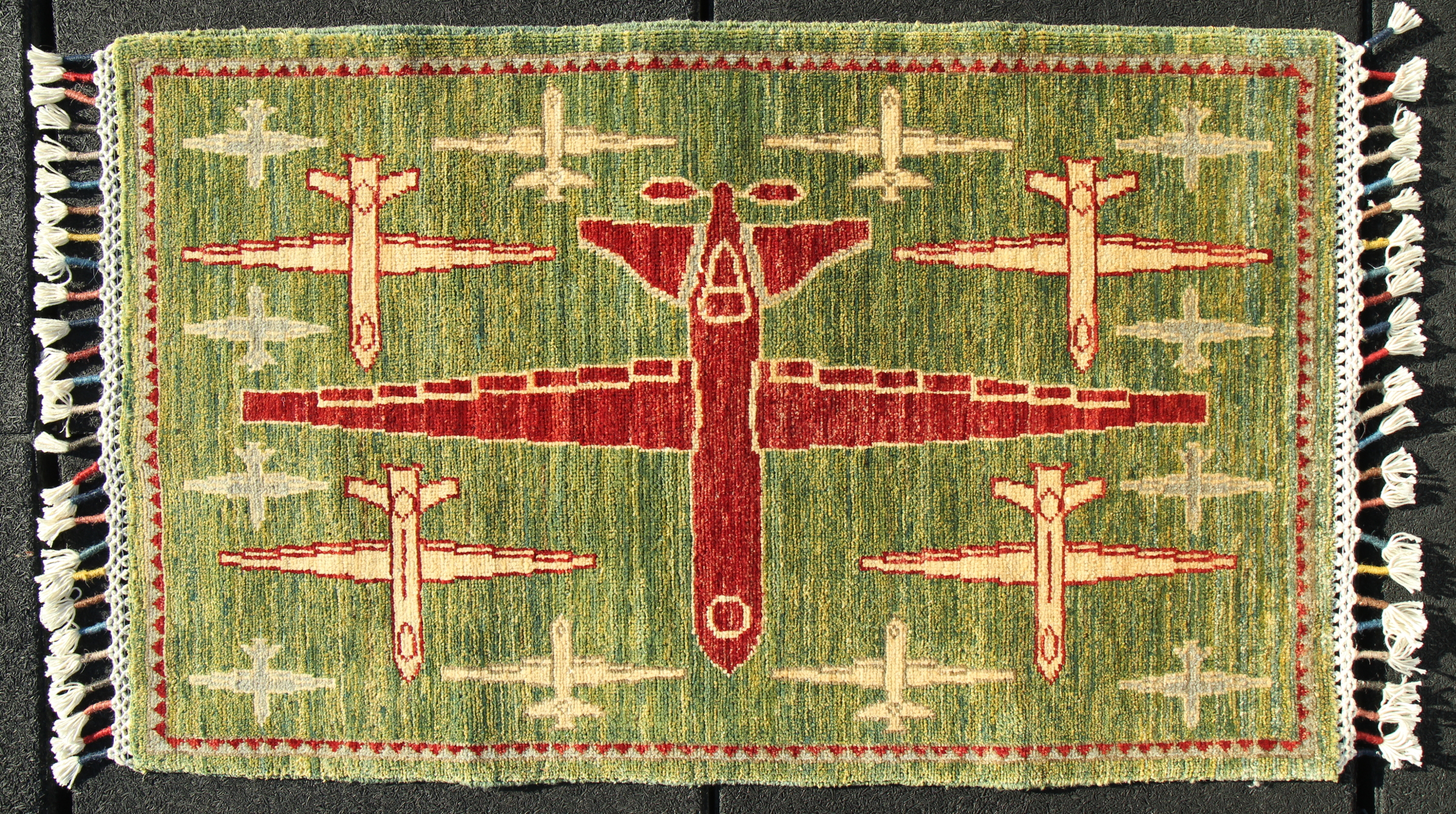 Green Reaper Drone War Rug
Exhibited at:

ID# 1802
Date: Received November 2020
-:-
Size 25 x 40 inches
(63 X102 cm)
Knots/Inch:
9 h X 9
Origin: Afghanistan
Style: -Reaper Drone War Rug,
Other examples of this style
Tribe: Turkman
The end finishes and green color make this rug, and it's mate #1808, unusual. These two rugs are the first seen by warrug.com with this end finish with groups of warps wrapped in field color wool. In late 2017 some rugs arrived with latticed warp end finishes. < Rug #1665, Rug #1664 , and rug #1811., but these are the first to go further and bind the terminal warps in wool. It is a beautiful and novel effect, and hopefully we learn more about it in the future.

The condition of this rug is new and perfect.

Green, being a holy color to Muslims, is a surprising choice to accompany US drones. Some ealier drone rugs were greenish, but it probably came from a yellowish wash over a light blue field, like this rug. .
Wool: very good. The green field color is particularly nice wool.
Sheen: Very good luster.
Handle: Stiff handle, strong and springy.
Selvedge: True original selvedge. One thick cord overcast in field wool color.
Fringe: As mentioned above this end finish is special. There are three tiers of lattice then bundles of warps are bound in wool dyed in colors of the rug.
Pile: 4mm
Warp: White cotton
Weft: Two shoots white cotton
Warp Depression:Almost completely full warp depression