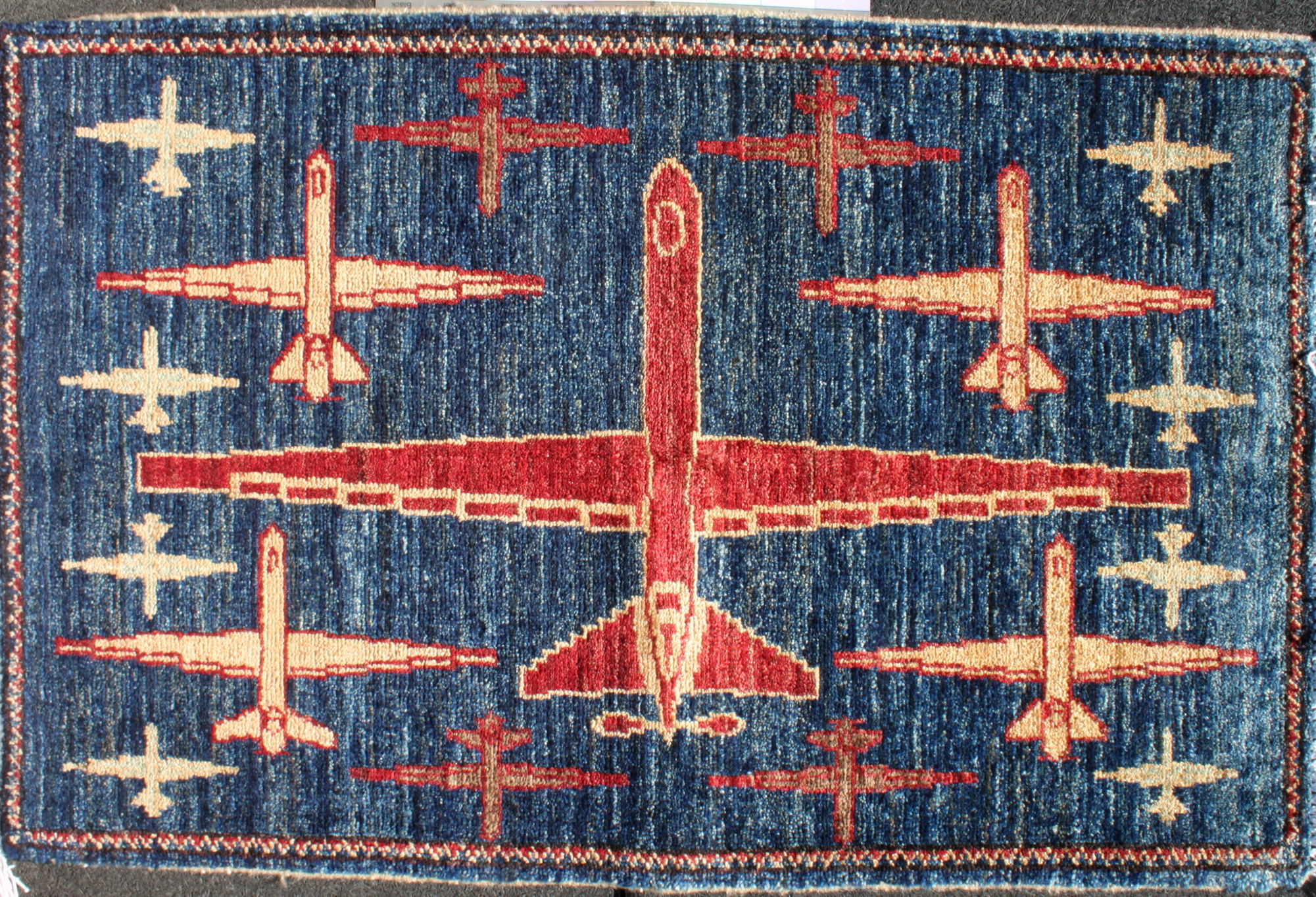 Dark Blue Reaper Drone War Rug with Traditional Turkmen Border
Exhibited at:

ID# 1757
Date: Woven 2015
Recieved by company December 2015
Published in USA February 2016

-:-
Size 38 x 26 inches
(96 X66 cm)
Knots/Inch:
h X
Origin: Pakistan
Style: -Reaper Drone War Rug,
Other examples of this style
Tribe: Turkman
This rug received by warrug.com directly from the weavers in Pakistan. It's materials, workmanship, and condition are all excellent.
This rug is a slightly different twist on the other drone rugs with a red, white, and blue palette because it's dark blue field. The planes outlined in red form a central medallion with a few light teal planes outlined in white.
The rug was rotated during photography to show the light and dark side. When the planes' noses are pointed up it's the dark side, when the nose is pointed down it's the slight side. Pile knots, when they are tied, are pulled down and remain oriented down for the life of the rug, and the angle of the threads give the rug a light and dark side. Basically, when the threads are pointed towards the light one sees the dark side.
This is a special rug.
Wool: Excellent. This type of rug uses the best quality wool which is spun by hand, so the wool maintains as much lanolin as possible. Lanolin is the natural oil that gives wool its sheen and protective coating.
Sheen: Excellent
Handle: Very firm and sturdy. Baluchi rugs are floppy, but these Turkmen rugs are supper stiff.
Selvedge: Blond wool - matching some of the planes outlines - wraps the last warps where the wefts terminate and the return for the next row of knots.
Fringe: Short white cotton.
Pile:
Warp: White cotton
Weft: White cotton
Warp Depression:Almost fully depressed warp. Only a sliver of the lower node is visible from the back of the rug.

2015. Rugs from this group arrived dated 1363, or 2015 in the western calendar.