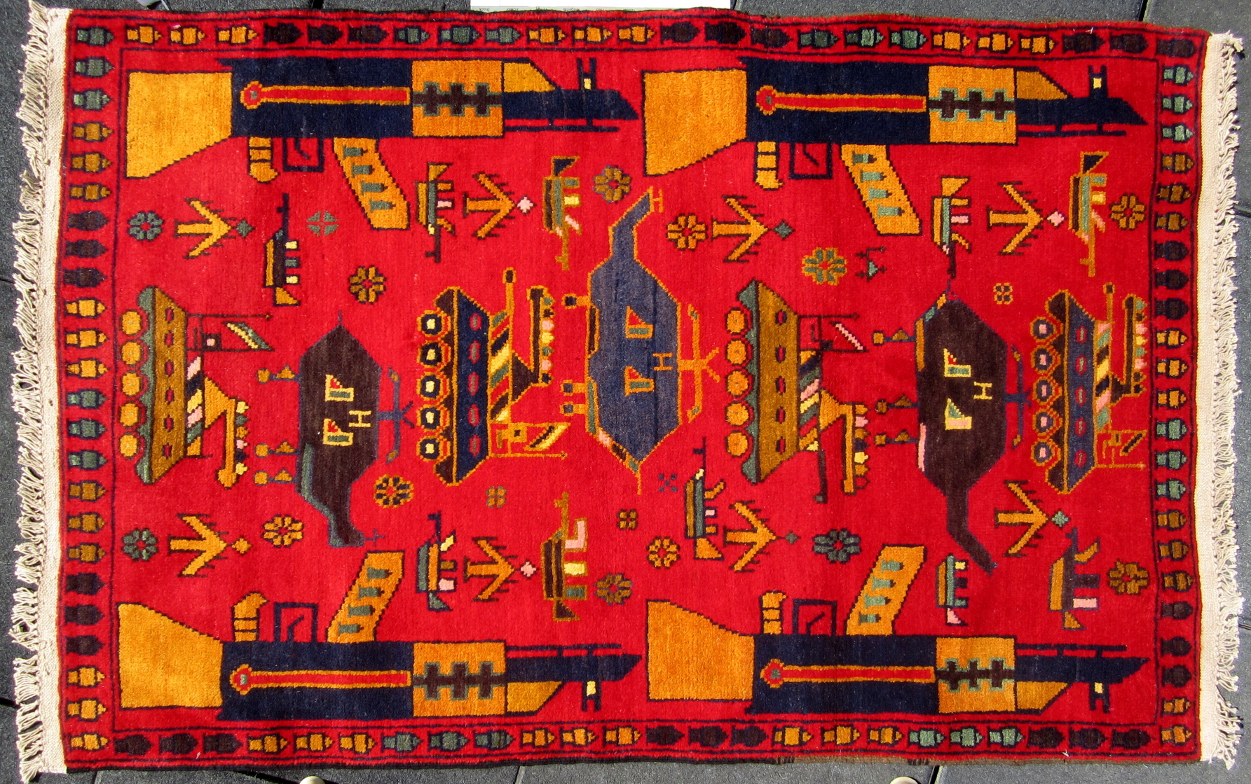 Blue Abrash Helicopter Red Rug
Exhibited at:

ID# 1547
Date: 1990's
-:-
Size 40 x 62 inches
(101 X157 cm)
Knots/Inch:
7 h X 6
Origin: Pakistan
Style: -Red Rugs, a war rug classic. ,
Other examples of this style
Tribe: Turkman
The simple blue helicopter at the center of this rug is really beautiful. Also, the overall composition works well with big AK's, medium sized helicopters and APC's, and small rifles and airplanes. The color combination of red, yellow and dark blue is effective. Lastly, this rug is slightly larger than most red rugs.

This rug is in new condition. Red Rugs were woven in Pakistan during the 1990s until the international community forced the Taliban out of Afghanistan in 2001. The weavers of these rugs were Afghan refugees who returned to Afghanistan after the fall of the Taliban. The Red rugs currently available have been sitting in warehouses since they were woven in the 1990's so their condition is excellent and like new.

Wool: Okay wool. Its dry and a little sharp.
Sheen: Okay
Handle: Sturdy and dense.
Selvedge: One thin cord black wool overcast.
Fringe: Tea dyed cotton kilim, overhand knots and short fringe.
Pile: 7mm
Warp: White cotton
Weft: Two shoots of black wool.
Warp Depression:Roughly 30 degrees depressed.