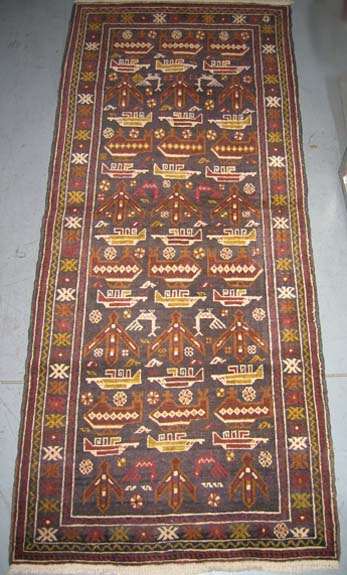 Rare Baghlani War Rug (Price reduced 1/27/15)
Exhibited at:

ID# 145
Date: Previously I thought this rug was from the 1990's in Pakistan when I purchased it in the emid 1990s, but more research shows it is probably from Afghanistan during the late 1980s.
-:-
Size 31 x 70 inches
(79 X178 cm)
Knots/Inch:
8 h X 9
Origin: Afghanistan
Style: -Baghlani War Rugs,
Other examples of this style
Tribe: Turkman
Condition of this Baghlani war rug is very good. It has full pile, and no damage or repairs. Wool is thick and dense. Wool is a little dry, so perhaps it has been harshly washed. Rug has dense feel, like felt. This rugs handle is hard and stiff, consistent with type.
This rug shows lovely birds.
Wool: Thick and curly.
Sheen: Minimal
Handle: Stiff and springy.
Selvedge: two cord grey wool
Fringe: Short wool kilim, overhand knots, very short fringe
Pile: 3mm
Warp: Grey natural wool
Weft: two cord black cotton.
Warp Depression:Minimal