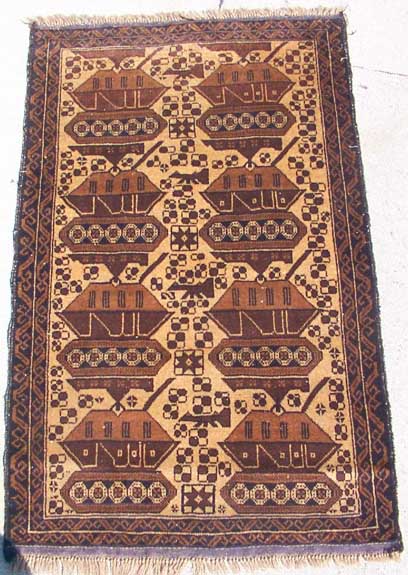 8 tank small Afghan War Rug
Exhibited at:

ID# 13
Date: Contemporary
-:-
Size 35 x 55 inches
(89 X140 cm)
Knots/Inch:
9 h X 10
Origin: Afghanistan / Pakistan
Style: -Ten Tank War Rugs,
Other examples of this style
Tribe: Baluchi
Perfect. Like new. . A Pakistani friend told me these rugs are made by refugees from Mazar I Sharif who live in NWFP Pakistan. This style shows a more abstract approach to war imagery. The simplified tanks verge on Bokara. Unusual size. Tribal.
Wool: Medium length, nicely dyed.
Sheen: Moderate.
Handle: Floppy, soft.
Selvedge: Two warp goat hair.
Fringe: One inch dark blue kilim, off loom knot and 2 inch fringe.
Pile: Wool
Warp: Brown wool
Weft: Double wefted grey cotton.
Warp Depression:Minimal to none