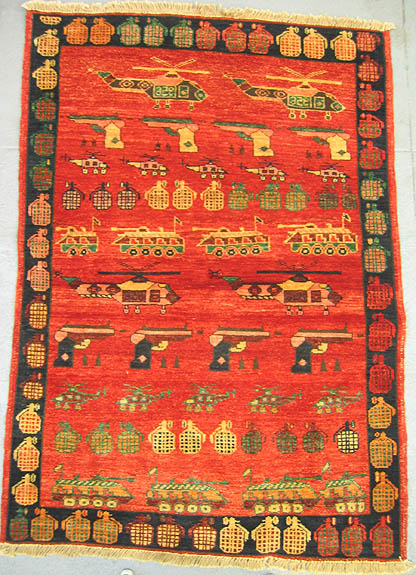 Red Vegetable Dye War Rug #2
Exhibited at:

ID# 1005
Date: 2003
Price:$ 700
Size 40 x 59 inches
(101 X150 cm)
Knots/Inch:
9 h X 9
Origin: Pakistan
Style: -Vegetable Dye War Rugs
Tribe: Turkman
This new war rug is in excellent condition. These vegetal dye Peshawar rugs are simply beautiful, and this war rug is no exception. This wool is hand-spun from Ghanzi in Afghanistan where only the finest of wool comes from and only dyed with all natural vegetable dyes. The wool and wash is gorgeous, the colors are rich and lush and have nice abrash, and it has very rich luster. In addition there is a nice variety of color, and the grenade border frames the rug well. The use of hand guns is not very common, and makes this rug truly stand out. The war motifs are attractively laid out throughout the composition, with a variety of images and the difference in scale, this war rug is sure to please collectors and non-collectors alike.
Wool: Best quality hand spun Ghazni woo.
Sheen: Excellent
Handle: Firm
Selvedge: Two cord wool overcast, flat
Fringe: Overhand knots, one inch fringe.
Pile: Pile depth is 5mm
Warp: Natural cotton
Weft: White cotton
Warp Depression:Nearly full warp depression