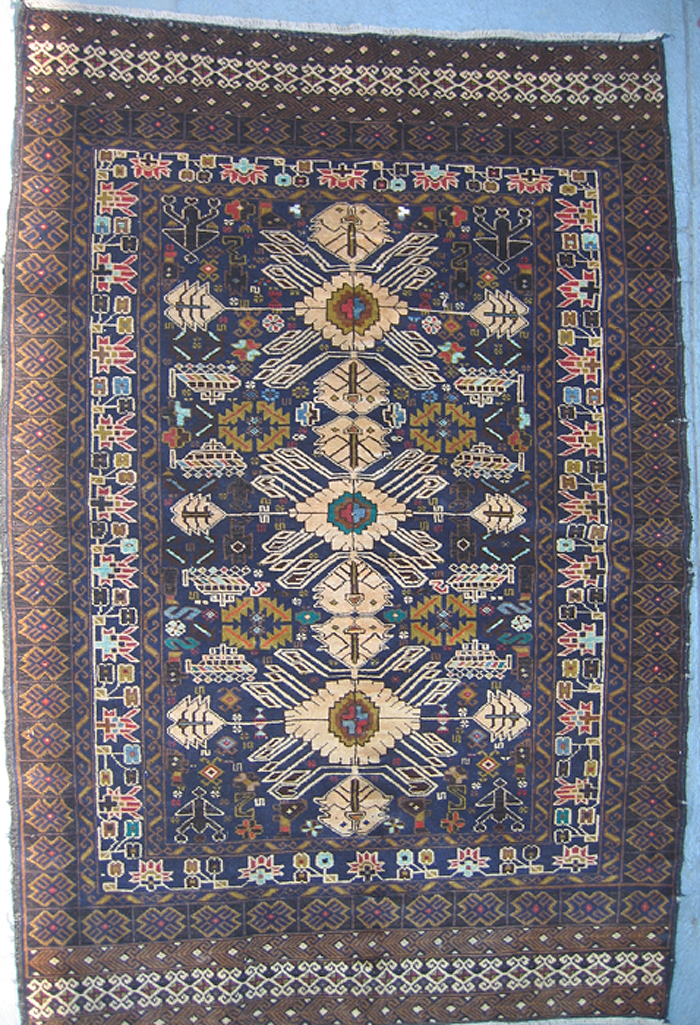 Dark Blue Floral Medallion with Weft Substitution Skirt Bands
Exhibited at:

ID# 2008
Date: 1980's
Price:$ 3750
Size 50 x 72 inches
(127 X183 cm)
Knots/Inch:
9 h X 8
Origin: Afghanistan
Style: -Small Floral Medallion War Rugs,
Other examples of this style
Tribe: Zakini
The best, and most recent, photos are at the bottom of the page.

This is an older rug in perfect condition. Check out the skirts and kilim ends. White floral medallions with bright colored centers are beautiful.
Bright rich green stands out against the navy background. Marled minty and sky blue accents throughout. Small neon pink knot in areas.
Wool: Soft
Sheen: good
Handle: floppy
Selvedge: 3 cords black hair goat braided
Fringe: no killim, knots 2 cords blue and brown minimum fringe
Pile: 3mm
Warp: white cotton
Weft: 2 cords black
Warp Depression:Almost fully depressed warps