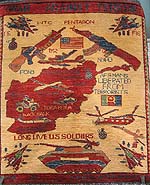 Kabul Kazak - War Against Terror 2
Perfect, new, Ghazni wool, spun by hand, excellent color, much thicker pile than most Kazak rugs which tend to be very short pile. Nice drawing of weapons, unusual variety of images. THESE ARE THE FIRST RUGS OF THIS TYPE WARRUG.COM HAS EVER SEEN. tank at bottom middle is good. text on top and bottom really great. predator drones, FDNY, NYPD.
The unity of the Afghans and the US is symbolized by the crossed AK-47 and the M-16 (both weapon types noted on stock).
351