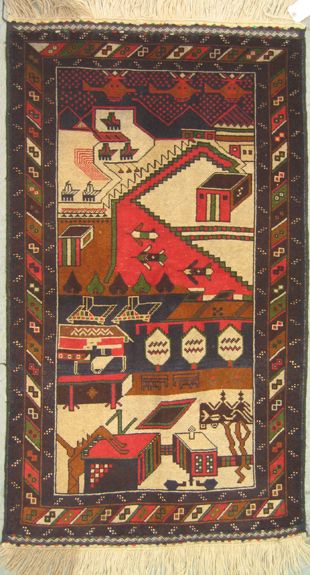 Snowy Landscape
Exhibited at:

ID# 934
Date: 1980s
-:-
Size 31 x 52 inches
(79 X132 cm)
Knots/Inch:
9 h X 10
Origin: Afghanistan
Style: -Landscape Pictorial War Rugs,
Other examples of this style
Tribe: Baluchi
This rug features an abstracted winter scene. It contains an example of an antique border. The abstraction makes good use of geometric patterning including squares, dots, tree designs, and heart shaped bushes. It is also one of the rare rugs that use two point perspective.
Very similar to this rug.
Wool: Soft
Sheen: Good
Handle: Floppy
Selvedge: 2 cords black goat hair braided
Fringe: 1 inches killim blue colors 4 cords 2 brown, 2 blue, some knots red, green, blue, white, special knots, 3 inches fringe
Pile: 5mm
Warp: White cotton
Weft: 2 cords brown
Warp Depression:45 to 30 degrees