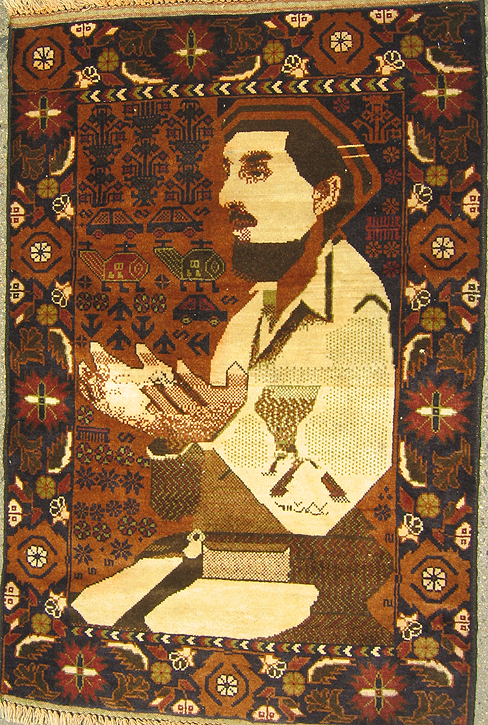 Ahmad Shah Masood Praying with War Motifs (NEEDS NEW PHOTOS)
Exhibited at:

ID# 2044
Date: 1980s-1990s 2007
-:-
Size 34 x 51 inches
(87 X130 cm)
Knots/Inch:
12 h X 14
Origin: Afghanistan
Style: -Political Portraits,
Other examples of this style
Tribe: Baluchi
A brown and blue rug depicting Ahmad Shah Masood praying in the foreground, with cars, trees, and helicopters in the background. This rug appears to be a copy of the rug in this photograph and is evidence of the feedback loop where public discussions of war rugs lead to reiterations of previous designs.
Flowers and other objects on a dark blue background border the main composition.
Wool: Thick, soft.
Sheen: Shiny.
Handle: Thick and floppy.
Selvedge: Tightly braided black goat hair, some weft showing through.
Fringe: 3/4in long plain weave with a reduced kilim grey cotton thread Persian closure.
Pile: 6mm
Warp: 1.5in long naturally colored 2S wool.
Weft: Dark grey cotton thread.
Warp Depression:Slight warp depression