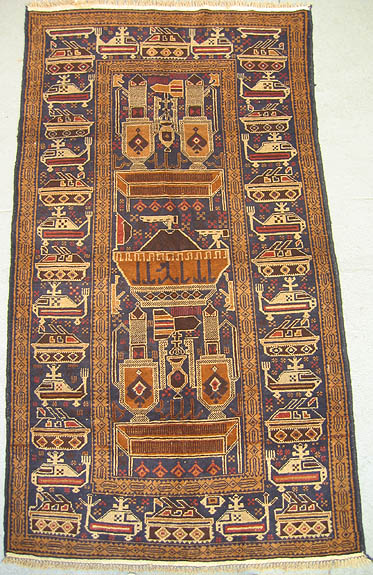 Two Ewer War Rug with Retreating Tanks and Troop Carrying Helicopter Border
Exhibited at:

ID# 967
Date: 2001
Price:$ 700
Size 43 x 77 inches
(109 X196 cm)
Knots/Inch:
8 h X 9
Origin: Afghanistan
Style: -Two Ewer Design Zakini Rugs
Tribe: Baluchi
This new war rug is in good condition. This Beluchi war rug was woven with very curly hand-spun wool. The best quality about this war rug is the artists use of traditional Beluchi design juxtaposed with contemporary war images. The colors are typical of this tribe, and the borders in this war rug contain simple and clean designs. Centered in this rug is a tank, above and below it is a table and two ewers, commonly used in ritual cleansing. Along the outer border, the artist alternates tanks and helicopters. A glimpse into the world in which the artist currently lives.
Wool: Slightly sharp, slightly dry
Sheen: Okay
Handle: Floppy
Selvedge: Irregular braided wool overcast
Fringe: Half inch plain weave on bottom Persian closure. It looks like kilim end has been pulled out revealing curly warp threads. Top is half inch kilim, overhand knot, one inch fringe.
Pile: Pile depth is 4mm
Warp: Very curly hand spun wool
Weft: Grey cotton
Warp Depression:Minimal