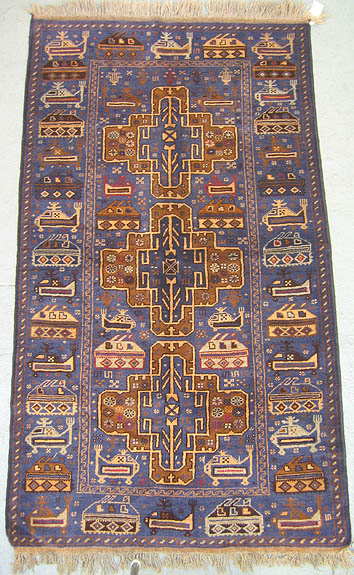 Three Beluchi Medallion War Rug
Exhibited at:

ID# 911
Date: 2002
-
Size 44 x 77 inches
(112 X196 cm)
Knots/Inch:
8 h X 9
Origin: Afghanistan
Style:Latif Chel War Rugs
Tribe: Baluchi
This new war rug is in excellent condition. This is a classic example of folk art at its finest. For centuries, the Baluch have woven the same three medallion pattern seen in this rug. Inside the medallions are poppies. The traditions of the rich blue color, the multiple, alternating sized borders, and the medallions have been passed through time from generation to generation. This nomadic Baluchi weaver didn't stop there, however. She dated this rug by images she sees on a daily basis, and thereby changed a pattern used and seen for centuries. Throughout this war rug, there are images of helicopters and tanks. They are stylized and cleverly juxtaposed with the traditional elements of their rug weaving designs. An example of this unique way of juxtaposition can be observed with a traditional motif seen in rugs, a comb used in the weaving process, incorporated into the tail of the stylized helicopter. A guaranteed conversation starter, this war rug is perfect for a home or office.
Wool: Slightly dry.
Sheen: Okay
Handle: Floppy
Selvedge: Two cord braided goat hair, loosely done, overcast
Fringe: One inch kilim. Top has unusual braided double closure. Bottom has one inch kilim and looped fringe. Looped fringe is where warps run down, around dowel, and back up into the rug. When the rug is finished, the dowel is removed leaving a looped fringe.
Pile: 6mm
Warp: Dry straight fiber wool, hand spun
Weft: Weft is double shoot grey wool.
Warp Depression:Warp depression is minimal to ten degrees