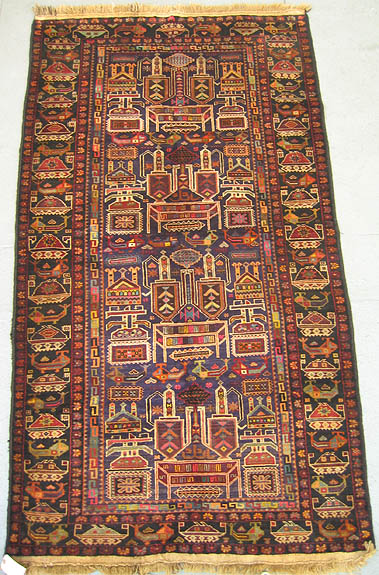 Brightly Colored Two Ewer Rug with Brightly Colored Tank and Helicopter Border
Exhibited at:

ID# 882
Date: 1999
-:-
Size 47 x 85 inches
(119 X216 cm)
Knots/Inch:
7 h X 11
Origin: Afghanistan
Style: -Two Ewer Design Zakini Rugs,
Other examples of this style
Tribe: Baluchi
This new war rug is in perfect condition. This artists work is spectacular; the rug is excellently knotted, the wool used is extremely lustrous, and the colors are phenomenal. Even the fringe is gorgeous. This is one of the finest examples of contemporary Afghan folk art. It is full of traditional motifs and symbols passed down through generations. Motifs such as hearts and poppies, symbols such as the two ewers representing cleanliness and rituals. Had the artist lived in peaceful times, she may have stopped there. Instead, she filled her art with images from her daily life. With things we can not imagine seeing, things generations before her never could have laid eyes upon. Images of tanks, helicopters, and rifles. Even in this war torn nation, weavers before her would have only occasionally seen swordsmen ride through her nomadic village. Certainly, the daily barrage of tanks and rifles became part of her story, and now that the Taliban is silenced, her voice can be heard.
Wool: Dense, thick, beautiful luster
Sheen: Excellent
Handle: Firm version of floppy
Selvedge: Very densely done, two cord braided goat hair overcast
Fringe: One inch plain weave kilim, thick braided closure, one inch fringe. Wool is mostly golden with some dark brown. Spun by hand
Pile: 7 mm pile depth
Warp: Hand spun tan and dark brown wool
Weft: Grey cotton
Warp Depression:Slightly more than corduroy, 75 to 80 degrees