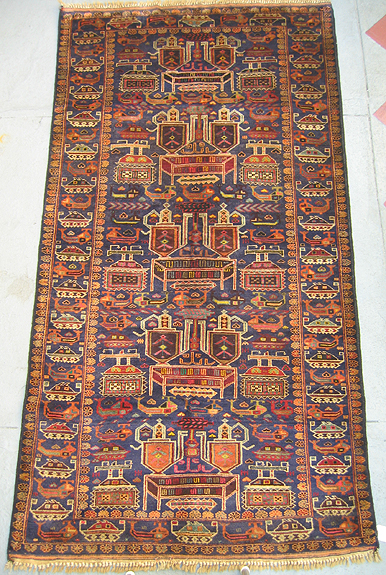 Two Ewer with Border of Helicopter (concentric ring tail) and Tanks (flags on both ends)
Exhibited at:

ID# 881
Date: 1999
-:-
Size 46 x 87 inches
(117 X221 cm)
Knots/Inch:
8 h X 12
Origin: Afghanistan
Style: -Two Ewer Design Zakini Rugs,
Other examples of this style
Tribe: Baluchi
This new war rug is in perfect condition. This piece of Afghan folk art was woven by the same weaver who wove the war rug above, #882. Her skills as an artist are highly developed and sought after, and warrug.com searches for only the very best artists.
The wool used produced a wonderfully thick and dense pile. Some of the qualities of this war rug that set it apart is the use of a wool foundation and kilim ends. Also of note, she is one of the only artists we have seen who draws two flags on each end of the tanks.
Wool: Very soft, nice and fatty. Long pile
Sheen: Very good
Handle: More firm than floppy
Selvedge: Two cord braided goat hair overcast
Fringe: One inch kilim, overhand knots, one inch fringe. Both ends
Pile: 9mm
Warp: Straight fiber natural color wool
Weft: Dark grey cotton
Warp Depression:Almost full, 80 degrees