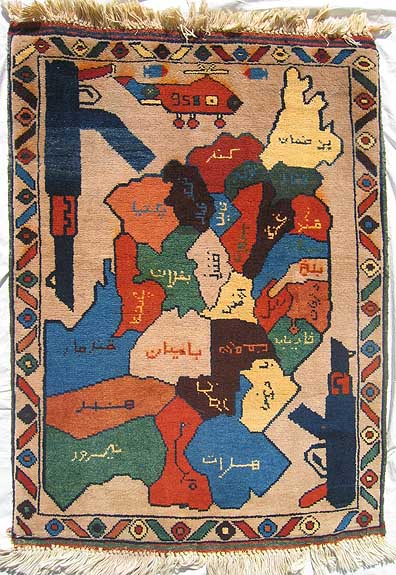 Afghan Map War Carpet with Two AK's
Exhibited at:

ID# 702
Date: 2000
Price:$ 125
Size 25 x 33 inches
(63 X84 cm)
Knots/Inch:
9 h X 9
Origin: Pakistan
Style: -Maps of Afghanistan
Tribe: Turkman
Brand new. This rug brought to you by our buyers in the American Special Forces! Thanks to our men and women in uniform.
Wool: Soft
Sheen: Okay
Handle: Floppy
Selvedge: Two cords green
Fringe: 1 inch kilim with lines of red and blue, overhand knots, 2 inch fringe
Pile: 7mm
Warp: Light brown
Weft: Double brown and green
Warp Depression:30 degrees